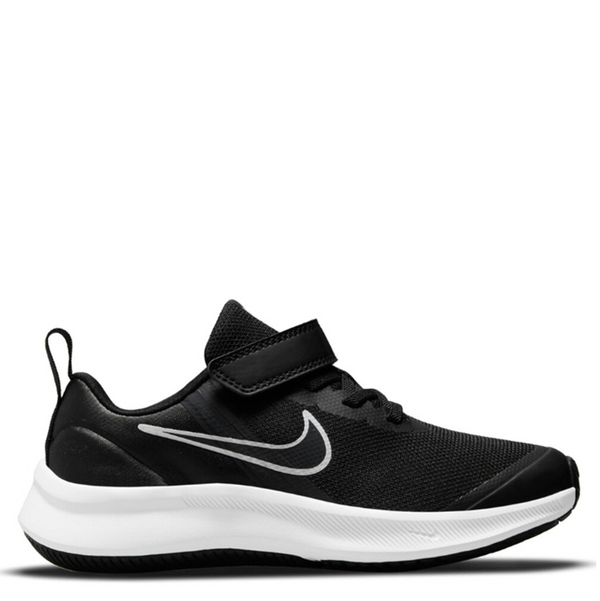 The Nike Star Runner 3 are kids runners that are designed to help kids believe that not even the sky is the limit. 
The Nike runners use 20% recycled content for a more sustainable build and their soft foam midsole offers cushioning for every run and jumps kids take. A star-shaped rubber outsole delivers traction for wherever kids dare explore.
These kids' sneakers from Nike will help kids' feet feel comfortable on the ground while they dream high.
Features of the Nike Star Runner 3 PS BLACK/WHITE
The Nike Star Runner 3 PS kids' runner has many features including a strap for easy take-off, plus super-soft foam and lots of flexibility to rocket up the comfort. 
They're made from at least 20% recycled content, so you can feel good about buying them.
The Nike Star Runner 3 PS also offers a mix of performance comfort and durability. An overlay on the toe enhances durability when dragging the toe, and a waterfall-shaped ankle with padding provides slip-in comfort. 
A soft insole and foam midsole creates soft cushioning for young runners, while grooves in the rubber outsole and a star traction pattern deliver flexibility and multi-surface traction. 
Whether your child is just starting to run or is an experienced runner, the Nike Star Runner 3 PS is a great option for them. A perfect choice for kids who want comfortable, stylish shoes that they can wear all day long.
Order today!
Shop at Sneakers Direct today for all your children's sports footwear needs. We offer free shipping on all orders over $110, so you can get your new shoes without breaking the bank. 
Plus, with AfterPay available, you can pay in 4 equal instalments. So what are you waiting for? Shop now and save!
DA2777-003