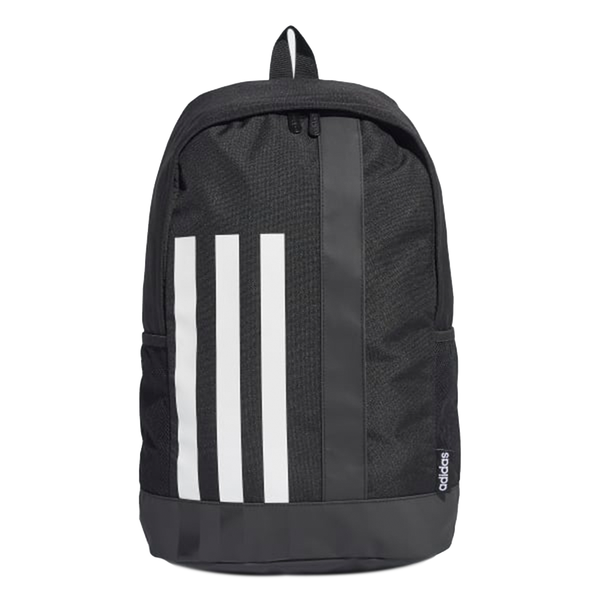 If you're in the market for a stylish and functional backpack for school, casual use or the gym, then the Adidas 3-Stripe Linear Backpack Black/White is a perfect choice. This classic black and white bag has plenty of features to make it an excellent choice for any occasion. 
Look & Style 
The Adidas 3-Stripe Linear Backpack Black/White has a sleek and modern design, making it perfect for all occasions. It comes with an adjustable shoulder strap and two top handles that make it easy to carry around. 
The backpack's exterior features 3 large stripes in contrasting colours, adding to its visual appeal. The interior of the bag is spacious enough to accommodate all your necessary items, such as books, notebooks and gym clothes. 
Features & Benefits 
This versatile bag includes several features that make it ideal for everyday use. It has multiple compartments that allow you to separate your belongings easily, such as textbooks from your gym clothes or even small items like keys or wallets, from larger items like laptops or tablets. 
It also includes side pockets with an elastic band that can be used to store bottles or other small items securely in place. The material of this backpack is also waterproof, making it ideal for outdoor use and protecting your belongings from rain.
Durability & Quality 
The Adidas 3-Stripe Linear Backpack Black/White is made from high-quality materials that ensure its durability and longevity even after frequent use. It has reinforced seams which ensure it remains intact under heavy load while still being lightweight enough to carry around comfortably without feeling weighed down by your possessions when you're on the go. 
Shop Now At Sneakers Direct
With AfterPay available, as well as an online store and local stores in Bankstown and Roselands, there's no reason not to shop at Sneakers Direct today! 
Shop now for the best selection of bags, sneakers, and so much more at the best prices.
GE1234